WAAM exhibition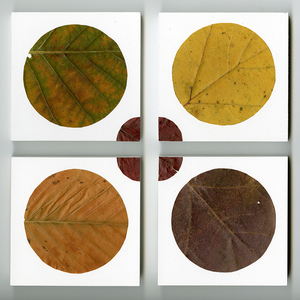 "FOCUS: Fish and Dish – A Fresh Take on Still Life"
juried by Jason Andrew
Woodstock Artists Association & Museum
28 Tinker St., Woodstock, NY 12498
April 2020 – ?

This exhibition has been put on hold during the Coronvirus pandemic. Please visit the website for images.
https://www.woodstockart.org/focus-fish-and-dish/

EXHIBITING ARTISTS
Herb Silander
Joan Barker
Linda Stillman
Wendy Williams
Sascha Mallon
Rob Penner
Jeff Starr
Jenny Nelson
Mimi Young
Fern Apfel
---
Wave Hill exhibition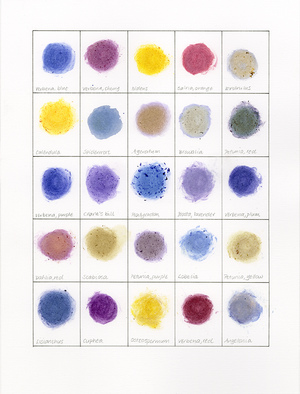 "Winter Workspace Artists: Returning to the Source"
April 2020 – ?
This exhibition is on hold as Wave Hill is closed during the Coronovirus shut down. Please check out the digital catalog.

Wave Hill chose originality and diversity of artistic approach to frame Returning to the Source. Now a decade old, the Winter Workspace program is known for bold experimentation and for artists forging novel connections to nature. Reconnecting with former artists for the exhibition was exciting and meaningful. Bringing the artworks together now underscores the breadth of exploration that happens here. On view is an incredible range of media, including animation, video, performance, works on paper, sculpture, textiles, painting and mixed media.

Exhibiting artists are Whitney Artell, Michele Brody, Sindy Butz, Julian Chams, Elisabeth Condon, Dennis RedMoon Darkeem, Francisco Donoso, Dahlia Elsayed, Nicolás Dumit Estévez Raful Espéjo, Gwen Fabricant, Beatrice Glow, Sabrina Gschwandtner, Asuka Hishiki, Elizabeth Hoy, Nova Jiang, Yeon Jin Kim, Tamara Kostianovsky, Jessica Lagunas, Nick Lamia, Amy Lincoln, Robin Love, Next Epoch Seed Library (Anne Percoco & Ellie Irons), Paloma McGregor, Naomi Reis, Yelaine Rodriguez, Jessica Rohrer, Linda Stillman, Austin Thomas, Michael Kelly Williams and Ezra Wube.

Location: Wave Hill House
675 West 252nd Street
Bronx, NY 10471


artwork:
Title: Hillsdale Sampler (Verbena-Angelonia)
Date: 2019
Medium: flower stains, graphite & ink on paper
Dimensions: 12.5 x 9.5 inches
---
The "Hillsdale" show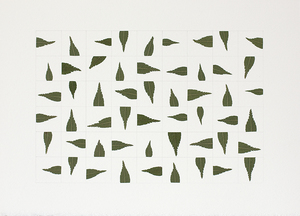 I am pleased to have new nature based work on view at LABspace Gallery in a show with the work of some other Hillsdale, NY artists. If you are in the area please join us for the opening this Sunday or come to the Open Studios the following Sunday.
The "Hillsdale" Show
Curators: Julie Torres and Ellen Letcher
LABspace Gallery
2642 NY Route 23
Hillsdale, NY 12529
917-749-2857
julielabspace@gmail.com
Exhibition on view: Nov. 3-Dec. 1, 2019
Hours: Sat. & Sun., 1-5, and by appointment, through Thanksgiving weekend
Opening reception: Sun., Nov. 3rd, 3-5 pm
Open studios: Sun., Nov. 10, 1-5 pm; please email me for my studio address
Participating Artists: Joan Grubin; Linda Stillman; Guy Walker; Jennifer Johnson; Erick Johnson; Martha Bone; Leah Guadagnoli; Peter Bradley Cohen; Kara Smith; Liz Sample
---
Islip Art Museum exhibition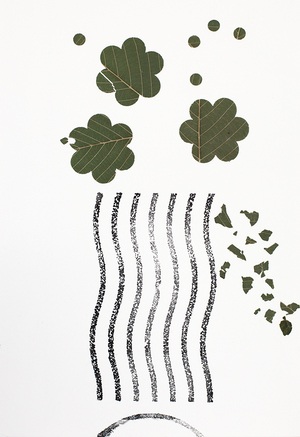 "A Book About Death" Global Art Project Returns to New York 10 Years After
The 10 Year Anniversary Edition of A Book About Death – The Last Waltz is an international mail art project that brings artists together in the continuing exploration of the single most unifying human experience that we all share – death. This "edition" celebrates the 10 Year Anniversary of the original show in NYC and the birth of the ABAD Project.
Curator: LuAnn T. Palazzo
Exhibition: September 14 - November 2
ISLIP ART MUSEUM
50 Irish Lane
East Islip, NY 11730

This show includes postcard reproductions of my work "Elms for Ray."

Update:
A set of this new 10th Anniversary Exhibition is headed to the permanent collections of 10 institutions around the world including MoMA in NY.
---
Artists Talk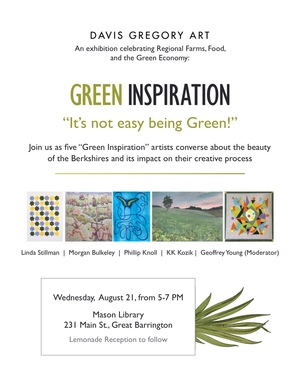 In conjunction with the exhibition "Green Inspiration," Davis Gregory Art will present an informal conversation between five artists whose work is featured at the Mason Library in Great Barrington. The panel will include Morgan Bulkeley, Phillip Knoll, KK Kozik, Linda Stillman, and Geoffrey Young, as moderator.

Wednesday, August 21, 5-7pm, Mason Library, Great Barrington, MA